Bankruptcy and Insolvency Lawyers in Hyderabad
Are you looking for Bankruptcy and Insolvency Lawyers in Hyderabad? Mr. Sai Krishna Azad having 15+ Years of experience and most trusted high court lawyer in Hyderabad.
INSOLVENCY PETITION
Insolvency is a state suffered by an individual, organization, or community when the debtor is in a condition where he cannot repay the credit he borrowed initially to start a business.
With this intention, if the person, community, organization approaches the court stating his helplessness in paying the owned money is called insolvency petition.
It can be applied under section 9 insolvency act 1928. It mainly comprises of Schedules A-F where the debtor should declare all the statements about his helplessness in paying the debts.
Procedure for INSOLVENCY PETITION
For example, Under schedule A the debtor has to declare the number of people or the financial institutions from whom before he managed to own the money to start the business along with the precise details of the amount which he took from the different people or financial institutions
Under schedule B he has to declare the number of people to whom he behaved as the creditor in the past along with the correct details of the money. Likewise, all the schedules should be clearly and notably declared by the debtor.
When the petitioner approaches the court, the court before declaring debtor to be insolvent appoints a receiver who has the complete authority of managing the debtor assets till the court declares debtor to be insolvent.
Before doing it the court will distribute the assets of the debtor on the priority of debts he took from the creditors.
Once the court declares the petitioner to be insolvent the respondents have no rights in threatening the debtor about the assets he took in the past
There is a chance that the petitioner can approach the court for arbitration were he withdraws the petition and would like to settle down the debts he took in the past with the creditors or respondents.
even the respondent has right to claim the court for decree where the court has to look over the insolvent for repaying the debts to respondents in case the debtor gains any property in the future.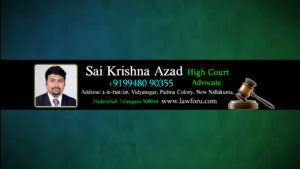 Why are we the best?
The way we deal, the way we involve make us unique from other firms in Hyderabad.
Being a great lawyer Mr.sai Krishna Azad has skills involving intelligence, advocacy, and effective communication skills which display his mastery in law.
We law for society provide legal services to our domestic and international clients in all the fields from which they have been suffering, with legal procedure.
There are some clients from abroad who wait just to seek an advice from Mr. Sai Krishna Azad.